Index
Main
General
Rifles
50 BMG
SMG
MG
AR
Contact
Links
Measuring
Aligning and Centering a Muzzle Mounting Suppressor
---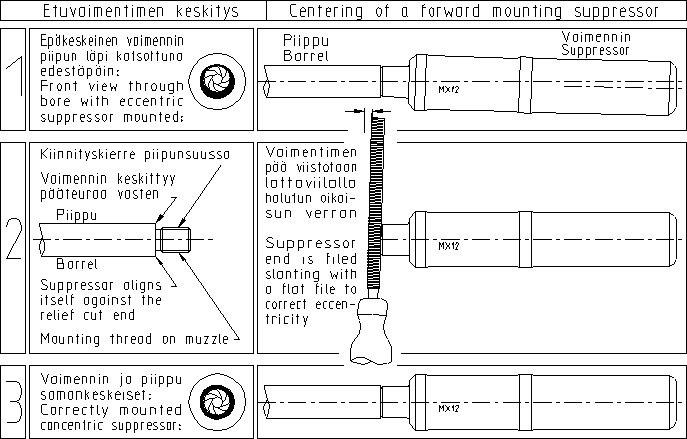 This is the usual method of aligning a suppressor mounted on muzzle thread. The suppressor aligns itself against the relief cut shoulder, which must be lathe-turned perpedicular to the bore axis. Missalignment will cause deterioration of accuracy or even damages to suppressor due to bullet grasp to baffles.
Suppressor aligning procedure is needed only when mounting it, from then on it will keep the alignment when properly used. Please avoid overtightening - this will cause unnecessary wear to aligning surfaces. Do not shoot with loose or untightened suppressor, as this may damage it!
Telescopic suppressors do not need aligning, because they support themselves from two points against the barrel. These instructions do not apply to conical thread, bayonet or other special means of suppressor mounting.
MX Minireflex Suppressor
---
Kalashnikov Reflex Suppressor KRS
---
Index Main General Rifles 50 BMG SMG MG AR Contact Links Measuring