<< guns.connect.fi << Gunwriters Link Page >> Version française >>
---
Issue 4/2001 27.08.2001. Only a few items of this article are in English. The rest are presented in French only.

Gaston's Guns:



THE 5,7x28 mm ARM SYSTEM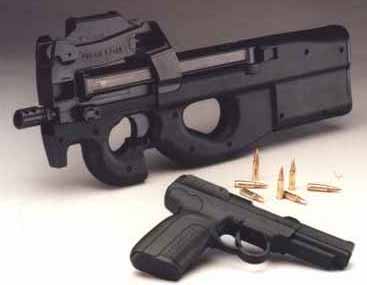 This research program leaded by the FN Herstal gave birth to guns of a new generation and was created for an unique caliber specially made for this program. Actually, the arm system around the 5,7x28mm round is represented by the P90 and the Five-seveN pistol, each one available in different finishes.

The Belgian ammunition exists now in four loads:
- SS190 (Round ball);
- L191 (Tracer round: red point);
- Sb 193 (Subsonic round: white point);
- T 194 (Training round: green tip);
At the beginning of this program, it was decided that the ammo to create should be of the same kind that the ammos used in assault rifles. In fact, when the 9mm was loaded in long arms, this excellent high pressure pistol caliber reached its boundaries at a long distance use.

Then the program turned upside down as 5,7x28mm ammunitions were created for long arms but with a compatible size to enable their chambering in handguns. The result is a new caliber with constant qualities, whatever the used weapon is.

On the technical matter, the 5,7x28mm generates a recoil of only one third of a .223" without a loss in stopping power as its energy is three times stronger than a 9mm! In addition, at 135 yards, it is able to get through 48 kevlar layers before perforating an iron helmet.




FN FIVE-SEVEN (5,7 mm x 28)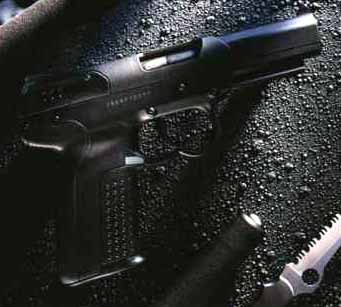 The Five-seveN pistol from the FN Herstal was created around the new 5,7mm x 28 cartridge. While its size is reasonnable, its magazine capacity holds 20 rounds. But its weight is inferior to the common 9mm available on the market, and it facilitates its carrying conditions. Its outline, its balance and its DAO mechanics have been studied to make the weapon forgotten until it is needed.

Recently, the belgian Fabrique Nationale of Herstal marketed a single action "Tactical" version upon which existing accessories can be set, as a lamp mount, a laser etc... Some time ago they introduced the Forty-Nine, with a comparable shape, but chambered for the 9mm Luger and the .40S&W.




PAPOP : THE WEAPON OF THE FUTURE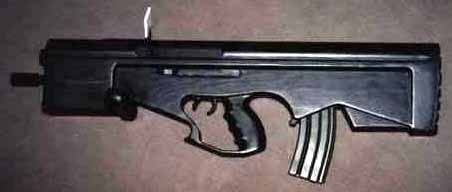 The DGA assigned to Giat Industries several studies to define what could be the weapon of the future in 2010, able to reach hidden targets.
After the objectives of a polyslugs-polyarm weapon system were defined, Giat Industries proved it was necessary to use explosive ammunitions programed with calibers bigger than 25mm, associated with a shape adaptated to the landed fighter.

Actually, a study validates a concept of a shooting method adaptated to the landed fighter, which improves consistently the reach probability. Results are awaited for the beginning of the first semester of 2001. Studies next steps should prove the ammo efficiency against hidden targets and propose new concepts of arm's architecture.




UNIQUE X-CONCEPT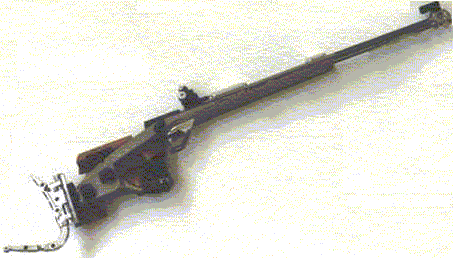 This new rifle of a very futurist design is a real machine to score. Derived from the T2000, it was logical that it gave to Unique one more gold medal during the Sydney Games. Revolutionary by its high technology and its amazing ergonomics the X-Concept is a state of the art accuracy's rifle.

Among the specifications of this match rifle, are a grip mounted on a ball and socket joint to fit every positions, a patented pectoral plate, an adjustable cheek rest, a high tech hook fixed on the stock butt pad enabling the shooter to choose between case or floating barrel. The one-piece butt stock is of aluminium. Created with computer science and manufactured with CNC machine tool, it offers excellent recoil's absorption and an exceptional vibes reduction thanks to its adaptable shapes.




Text by Gaston DEPELCHIN, e-mail gaston.depelchin@free.fr, gunwriter for Cibles & Excalibur (Ed. Crépin-Leblond).
Translation by Richard BARBOTEAU.



Version française >>


Previous Gaston's Guns:

Paap, Diana 350, PT 92 >>
G-2000 Straight out of Shadows >>


---

<< guns.connect.fi
<< Gunwriters
Link Page >>
Version française >>
Gaston's Guns: http://guns.connect.fi/gow/gaston2.html