<< guns.connect.fi << Gunwriters Link Page >> Version française >>
---
Issue 3/2001 18.06.2001

Gaston's Guns:
P.A.A.P or « La vie en rose »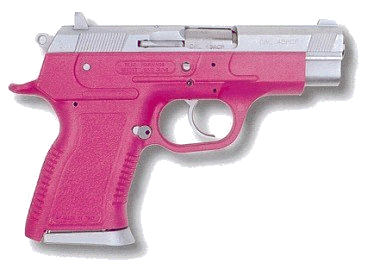 Born From a partnership between Tanfoglio and the French importer A.A.P., the "Pistolet A.A.P" (A.A.P.Pistol) is available in compact version. But the most shocking matter, when we discover this pistol is the amount of feasible variations upon request : it is in fact a serial custom pistol...

In fact, except caliber choice and gun size ( full or compact ), the shooter can request a blue, stainless or grey slide and that the frame to be pink, blue, grey , black, brown, white or even transparent. Into the bargain, you can add some options as a porting, a silencer, match or combat sights, ambidextrous levers, etc... Another interesting point, the frame was studied to receive magazine in different calibers and the frame 's rails are spaced enough to fit a larger slide, commonly used for .45's". Therefore it is possible to purchase several conversions for the same base.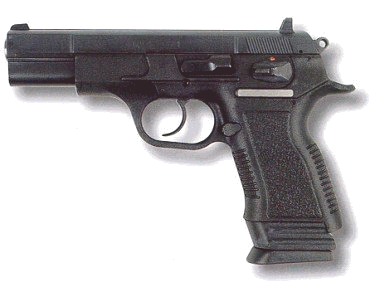 TECHNICAL DATA
Manufacturer:
TANFOGLIO
Action Type :
DA/SA Semi-automatic pistol
Model:
P.A.A.P. (Pistolet A.A.P.)
Calibers:
.22" LR, 9x19, 9x21, .38" SA,
.40" S&W, .45" ACP
Capacity:
8+1 to 16+1, depending on caliber and size
Trigger pull :
- 6,0 Kg. in Double Action mode
- 1,8 Kg. in Single Action
Safety:
Firing pin safety, Cocked and Locked
Sights:
fixed sights
Overall length :
210 mm / 195 mm
Barrel length :
113 mm / 93 mm
Overall Height :
130 mm / 147 mm
Width:
37 mm
Weight without magazine :
850g. / 750g.
DIANA 350 MAGNUM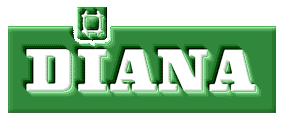 The last Diana was recently marketed. Raymond Caranta presented it in the french magazine "Cibles", as a rifle able to shoot 4,5mm diabolo pellets at the supersonic speed of 360 meters by second. Thanks to this feature it is actually the market's most powerful air rifle with an energy of 30 joules. We, who were used to reach velocities closed to 170 meters by second with common air rifles, saw that this spectacular progress was an outstanding record : the speed was not only multiplied by two, but a pellet launched faster than a .22" LR bullet had never been seen before.

The Monte Carlo style butt stock made of varnished beech bears a thick alveolate butt pad and is almost oversized for an air gun. Grasp is helped by grip and front hand rest checkering. When we open the break top action to load the 350 Magnum, we realize the amount of strength to be used : it is without doubt a rifle for adults.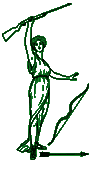 When the piston is in action , a safety is engaged to prevent accidental discharge . Before shooting, it is left to push the small lever that melt itself in the shape of the rifle. When we shot this rifle, we were immediately surprised by its recoil and its sound. If we pay enough attention it is even possible to discern the sonic bang (when the pellet breaks through supersonic speed) from the air release. This is an unique experience.

We have to state that to perform our shots , we had to install , on the 11mm rail, a stop block to avoid the scope mount from being pushed back at each pellet fired. Accuracy is correct with a scope and with factory sights, and the impressive power... And if we use special pellets made of iron, or the Prometheus (an iron spike upon a nylon skirt) , the 350 Magnum gives never reached before results. We did our evaluations on metal and paper (cans and phone books). This is really an ideal kind of rifle for pest control. Just in case you forgot, Diana is the hunting Goddess!





AIR SOFT GUN: THE TAURUS PT 92 BLOW BACK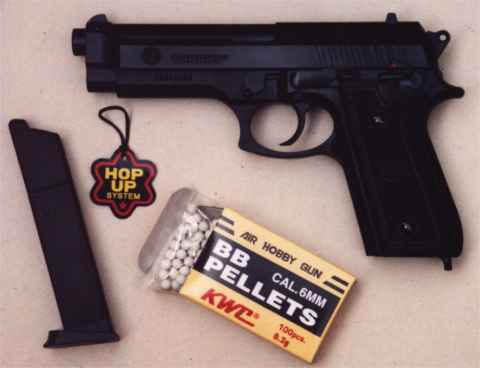 Air Soft Gun : Gun or Toy? Both... as we are about to say. In fact, replicas are not as submitted to severe laws as the models from which they are inspired. Therefore, their purchase is simpler: you only need to be 18... For shooters and arms afficionados, who wish to collect these models, replicas have the advantage to be on free sale, to be showed without risks, to be cheaper than originals and much less dangerous. To sum up, pellet replicas could be an interesting solution.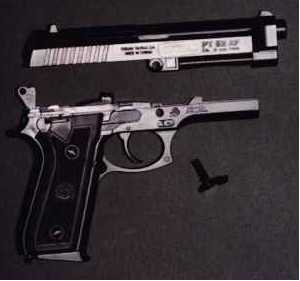 PT 92's handling is strictly similar to the Taurus 9 mm, but the replica is betrayed by its weight (580 Grams). Also, mechanics seems to be DAO: because to adapt an air system functioning, it was necessary to modify the gun action. The slide goes back after the pellet's departure, stops itself after the last shot, the magazine can be removed from the frame, et caetera...

Accuracy during testing, was correct to our amazement: we thought that we would spread, but it did not happen... not to much, at least. Power is very moderated but enables a recreative shooting. It is even possible to practice in a flat: the sound wouldn't disturb any neighbours. During our tests, we went through some troubles revealing some drawbacks. But we have to state that those are depending from the soft air functioning and not from the gun itself.

We write here about defects of the pellet's sphericity, about pressure loss from low heat, etc... but when the air soft gun is tamed, it becomes an enjoyment. Our opinion is that the Air Soft Gun is not seen like a real product by the gun community.




Les 3 Pylônes :
The world leader of the Soft Air market is French!



Specialized in scale model making, this company created in the 80's started in Soft Air in 1996. Since then it is living through an outstanding growth to make jealous real gun manufacturers. Comprising only 30 employees in France (3P do order a lot in Asia mainly from KWC) the world specialist of pellet replicas sells more than 20.000 guns a month, with more than 50 % of them world wide. With a catalogue of more than 200 items of Air Soft Gun and accessories, products are renewed frequently: two or three new products are expected each month, may it be new replicas or variations. Their distribution, in France, is followed by a network of more than 1.000 dealers.





Text by Gaston DEPELCHIN, e-mail gaston.depelchin@free.fr, gunwriter for Cibles & Excalibur (Ed. Crépin-Leblond).
Translation by Richard BARBOTEAU.



Version française >>

Previous Gaston's Guns: G-2000 Straight out of Shadows >>


---

<< guns.connect.fi
<< Gunwriters
Link Page >>
Version française >>
Gaston's Guns: http://guns.connect.fi/gow/gaston.html